Item Added to Bag!
Butter Together Body Butter Set
Pairs Well With
Butter Together Body Butter Set
Cult-Fave Body Butter Quad
Experience our cult-fave body butter! This quick-absorbing hydrator leaves even the most parched skin smooth, supple and supremely soft. Set features 3 iconic citrus scents, plus our fragrance-free formula.
-Used for decades in our spas
-Mega moisturizers shea butter and coconut oil soothe, condition and deeply nourish
4 Piece Set Contains:
-Lemon & Sage Body Butter
-Naked Body Butter
-Blood Orange & White Pepper Body Butter
-Grapefruit & Aloe Body Butter
Skin Type(s): All Skin Types
Size: 6.7 oz each
Smooth on from shoulders to toes.
Shea Butter: Rich in vitamin E, this intensive butter nourishes to combat dryness and flaking, quickly absorbing into the skin
Coconut Oil: Deeply moisturizing, skin softening and naturally rejuvenating
Soybean Oil: Rich in vitamins to nourish and revitalize
Sodium Hyaluronate: A unique moisturizer with an even smaller molecule size vs. hyaluronic acid, that holds 1000 times its weight in water for lightweight hydration
Candelilla Wax: A vegan substitute for beeswax that protects skin from water loss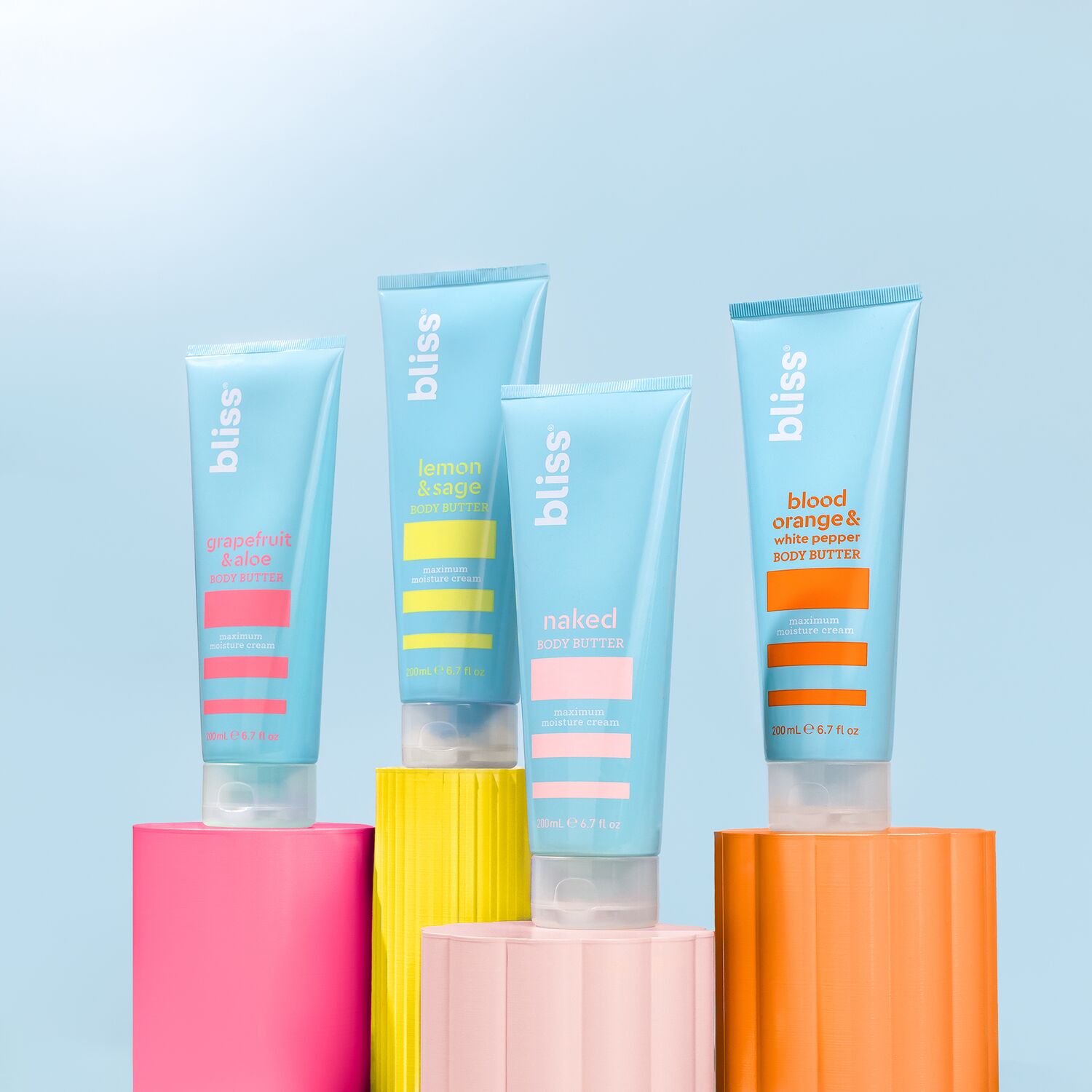 meet our flavors
LEMON & SAGE
Iconic and energizing Lemon & Sage
GRAPEFRUIT & ALOE
Juicy and sweet Grapefruit & Aloe
BLOOD ORANGE & WHITE PEPPER
Spicy and invigorating Blood Orange & White Pepper
NAKED
Unscented for sensitive skin
lemon & sage
CULT FAVORITE BEST SELLING FORMULA
Invigorate your senses with the fresh, zesty fragrance beloved for years! When citrusy lemon meets rich sage, the results are unforgettable.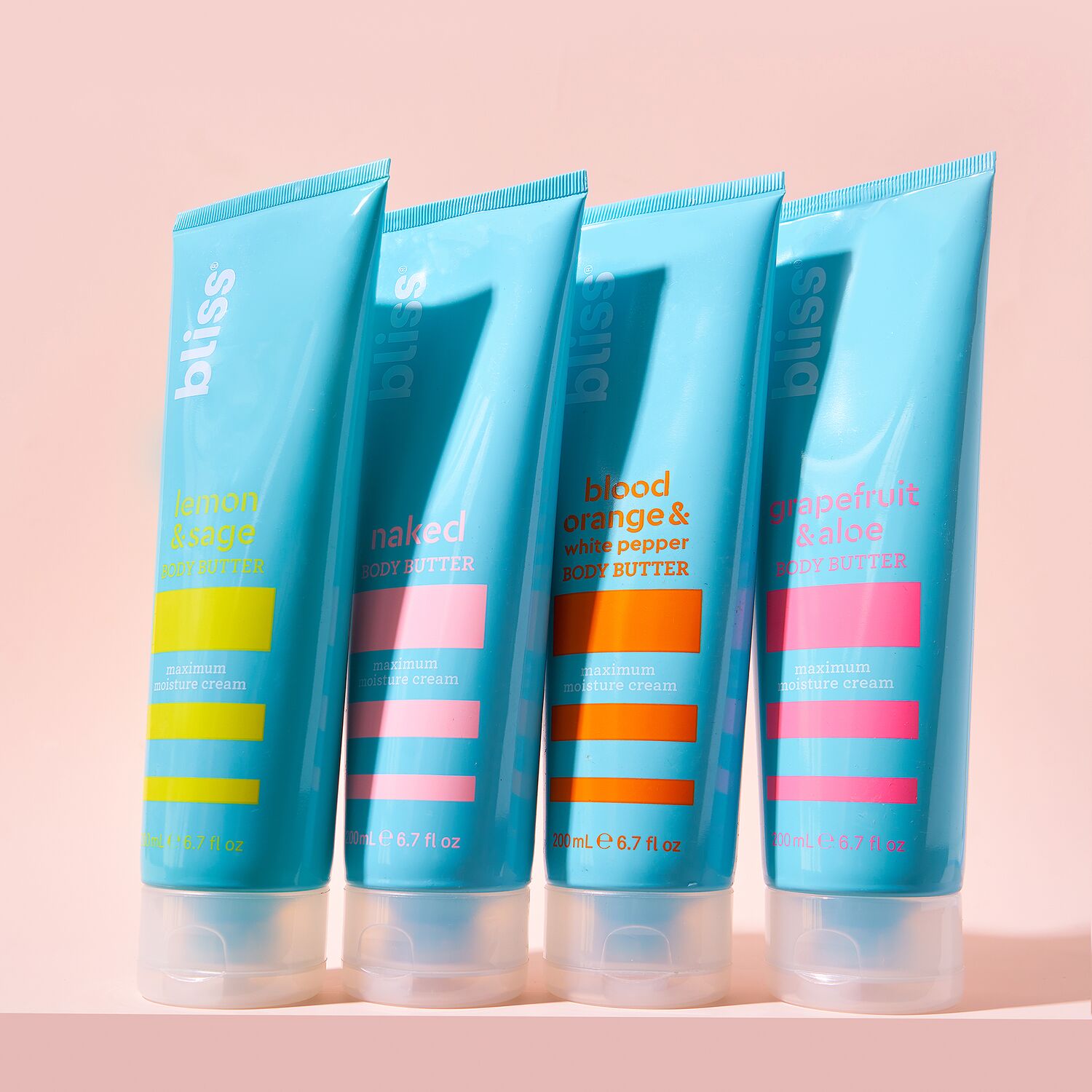 THE GOOD STUFF
The same formula used for decades in our iconic Bliss Spas!
Enhanced with mega moisturizers to deeply soothe and nourish parched skin
Choose from three supremely scented fragrances or unscented varieties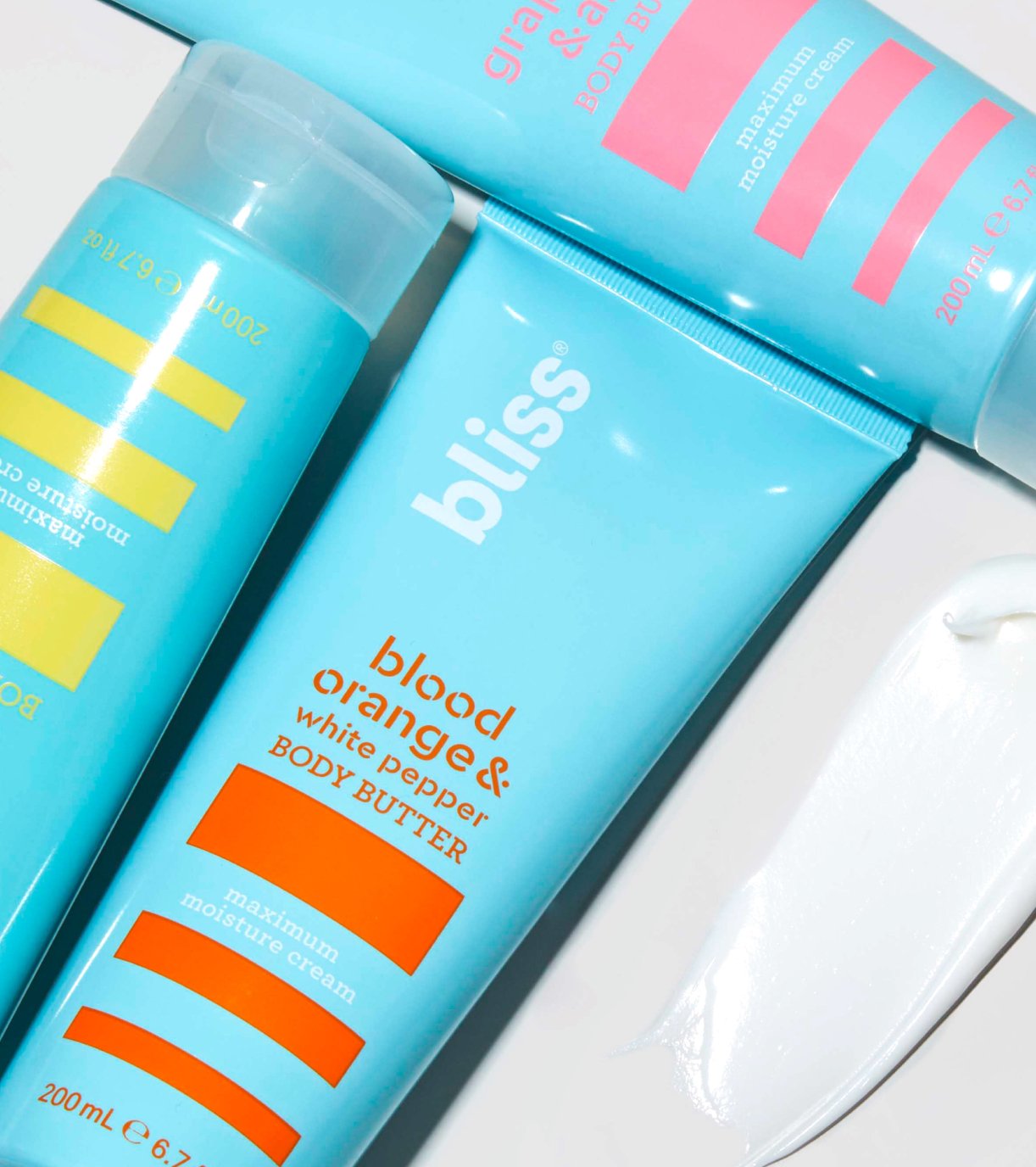 Key Ingredients
SHEA BUTTER
This quick-absorbing, vitamin E-rich butter nourishes to combat dryness and flaking
COCONUT OIL
Deeply moisturizing, skin softening and naturally rejuvenating
SOYBEAN OIL
Rich in vitamins to nourish and revitalize
SODIUM HYALURONATE
A unique moisturizer with an even smaller molecule size vs. hyaluronic acid, that holds 1000 times its weight in water for lightweight hydration
CANDELILLA WAX
A vegan substitute for beeswax that protects skin from water loss
Clean, Cruelty Free, Dermatologist-Tested
Cruelty-Free, Planet-Friendly, & Vegan
No parabens, phthalates, or SLS/SLES
Free from 1300+ harmful ingredients