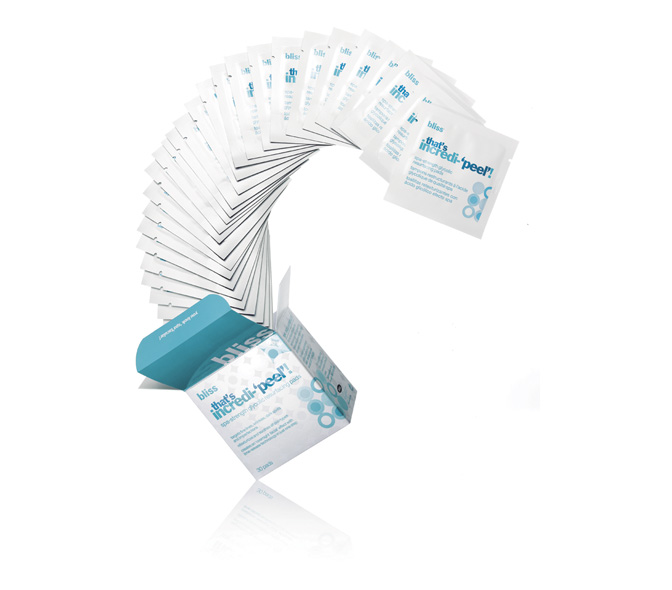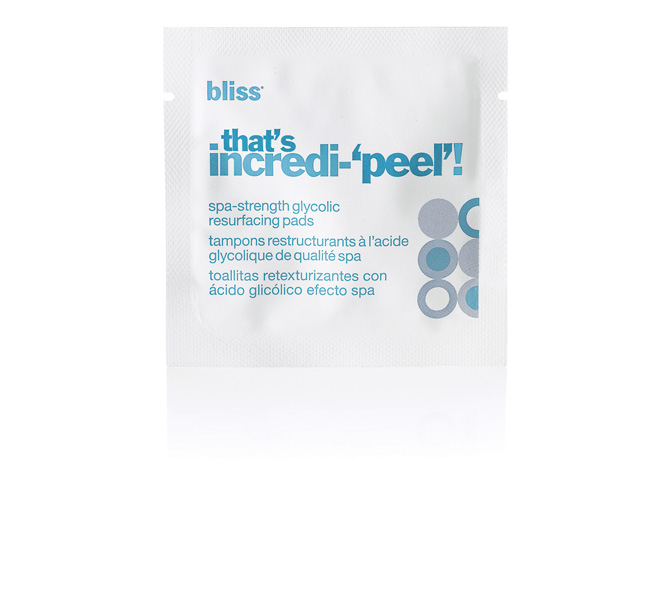 bliss that's incredi-'peel'! glycolic resurfacing pads
exfoliating glycolic acid peel pads without the irritation
Glycolic acid and vitamin E targefine lines, wrinkles, dark spots and imperfections
Retexturizes and soothes skin in just one step
Time-release technology makes it gentle enough for all skin type
one-step peel pads
We've reinvented the 'peel' with bliss that's incredi-'peel'! glycolic resurfacing pads. These convenient, single-step, no-rinse peel pads, engineered with innovative technology that gradually releases powerful levels of exfoliating glycolic acid throughout the night for serious skin renewal without the harsh irritation. Plus, they're packed with soothing witch hazel and licorice extract and hydrating glycerin for extra-gentle results. Finally, the secret to smooth, even, radiant skin is 'revealed'!
results
after one use: 84% said their skin felt softer*
after 2 weeks: 84% said there were visible improvements in skin tone*
after 4 weeks: 90% said there were visible improvements in skin texture*
*Based on a 31-person consumer study conducted over 4 weeks.
Work great on male skin to retexture slight acne scarring, getting rid of lines on my early 40's face and helping prevent any new breakouts. I use them after toning and before serum / moisturizer. Love them and my skin gets a lot of compliments. Maybe the best benefit is that after I am done with them on my face, I use the remnant peel moisture in the pads and wipe them on my forearms. The sun damage and crepey look to that skin has literally gone away. This product is too expensive, but it's a miracle so I will continue to buy it.
- by JOHN04/07/2016
It says use nightly but I use them every other night. They leave my skin feeling refreshed and renewed while helping elliminate any problem areas and breakouts. Good value as well!
- by Samantha12/16/2014
Can't live without these! I use them a couple times a week and they make my rough, dry skin feel like new! I recommend the to everyone! I never get those under-the-skin pimples anymore and I attribute that to this product.
- by 08/13/2014
I have sensitive and acne-prone skin, and this was non-irritating. Saw immediate results, and now I am hooked. Skin looks smoother and brighter than it has since I was a teenager.
- by sarah08/08/2014
This product is amazing. I have oily skin, but I'm prone to getting eczema around the eyes and mouth, therefore I lean towards sensitive skin products. I was hesitant at first to buy this bc I didn't want an eczema break out, however it didn't! I use it every other night (it is prone to drying out skin) and my skin is glowing! My post acne marks disappear within 4-5 days of using these pads. I'll be using these for a very long time! I always buy in advance bc I never want to run out.
- by VIRGEN07/31/2014
spa-powered ingredients
Water (Aqua/Eau), Glycolic Acid, Sodium Hydroxide, PEG-8 Dimethicone, Polyacrylate Crosspolymer-6, Methyl Methacrylate/Glycol Dimethacrylate Crosspolymer, Glycerin, Hamamelis Virginiana (Witch Hazel) Water, Tocopheryl Acetate, Citrus Aurantium Dulcis (Orange) Flower Water, Glycyrrhiza Glabra (Licorice) Root Extract, Calendula Officinalis Flower Extract, Butylene Glycol, Lauryl Methacrylate/Glycol Dimethacrylate Crosspolymer, Xanthan Gum, Benzoic Acid, Phenoxyethanol, Ethylhexylglycerin
how to use
Each night, gently wipe a pad over clean, dry skin. Do not rinse. Wait a few minutes and apply moisturizer.
in-
'spa'

-ration

Our estheticians heard you wanted those dramatic glycolic acid benefits but without all the irritation. We responded. These incred-peel little pads are just what the doctor ordered, but you don't have to go to the spa or the office to get them.
a few more ways to get glowing skin