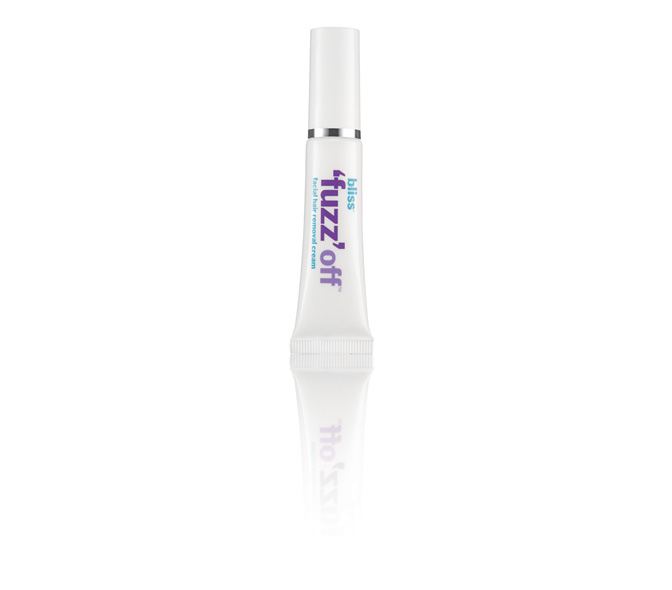 bliss 'fuzz' off facial hair removal cream
super-fast, fresh-scented facial hair removal cream .5 oz
Quick and painless hair removal on the upper lip, chin, cheeks, and hairline
Mess-free application and cleanup with the unique two-sided, dual-textured tip
one-step hair removal cream
This fast-acting facial hair remover makes pesky fuzz 'skedaddle' in a jiff - all with a fresh scent. You won't mind taking a whiff. It's infused with soothing willowherb and vitamin E for gentle effective hair removal and a botanical complex of lemon, rosemary, and pine to moisturize and revitalize the skin. Plus, it features a unique two-sided, dual-textured tip for mess-free application and removal all in one. For fresh-fragranced de-fuzzing in a flash, the solution is right under your nose!
results
91% of women agreed skin felt smoother after use*
100% found the product easy to use*
*Based on a clinical study of 32 healthy females from 20-45 years of age
Love this product! I used on my jawline by my ears and it came off right away. I'm an Esthetician so I could easily wax but like this way better! Love Bliss products!
- by Jill01/09/2017
Be careful how long you keep it on for. 3-4 minutes is perfect- works like a charm.
- by Aleksandra11/19/2014
Great product!
- by Molly07/11/2014
I use to for facial hair not bad. I have to leave it on for more than 15 minutes to get a good result.
- by Ina03/27/2014
Love that it has no harsh smell. Works well too.
- by Debora03/23/2014
spa-powered ingredients
water (aqua/eau), mineral oil, calcium thioglycolate, cetearyl alcohol, calcium hydroxide, potassium hydroxide, ceteareth-20, fragrance (parfum), butylene glycol, sodium lauryl sulfate, disodium EDTA, citrus limon (lemon) fruit extract, bisabolol, tocopheryl acetate, BHT, simethicone, equisetum arvense extract, humulus lupulus (hops) extract, pinus sylvestris cone extract, rosmarinus officinalis (rosemary) leaf extract, epilobium angustifolium flower/leaf/stem extract, hexyl Cinnamal, benzyl benzoate, hydroxyisohexyl 3-cyclohexene carboxaldehyde
how to use
Where to use: Upper lip, chin, cheeks, hairline. DO NOT USE NEAR EYES OR EYEBROWS. AVOID CONTACT WITH LIPS.
Perform a patch test before use
patch test: Before using, perform this patch test for allergic reaction: Apply as directed to a small area on the inner forearm, leaving on for a full 10 minutes. Remove and wait 24 hours. If no redness or irritation develops within this period, proceed with treatment. Irritation or allergic reaction may occur with some people, even after prior use without adverse effect.
To use, be sure skin is clean and free of makeup and oil. Squeeze tube to dispense cream, and apply a thick, even layer to desired area using the smooth side of the tip, covering hair completely. DO NOT RUB IN. After 3 minutes, test a small area by wiping cream away with a damp tissue or the nubbed side of the applicator. If hair does not come off easily leave on longer, checking at 1 minute intervals. DO NOT EXCEED TOTAL APPLICATION TIME OF10 MINUTES. To remove, wipe cream away with the nubbed side of the tip, then wipe any remaining cream with a damp tissue and rinse thoroughly with lukewarm water. DO NOT RUB OR USE SOAP. Pat dry. Wait 24 hours before reapplication. Wipe dispensing tip clean after each use and securely replace cap. Store in a cool, dry place below 35C (95F).
in-
'spa'

-ration

We heard from our spa clients that between appointments they like to go fuzz free at home, but hated the mess and oh-so-icky aroma of most depilatories. So we developed a bliss-ful solution: this face-friendly, mess-free formula with a precision applicator and signature fresh scent.
a few more ways to go bare and stay smooth