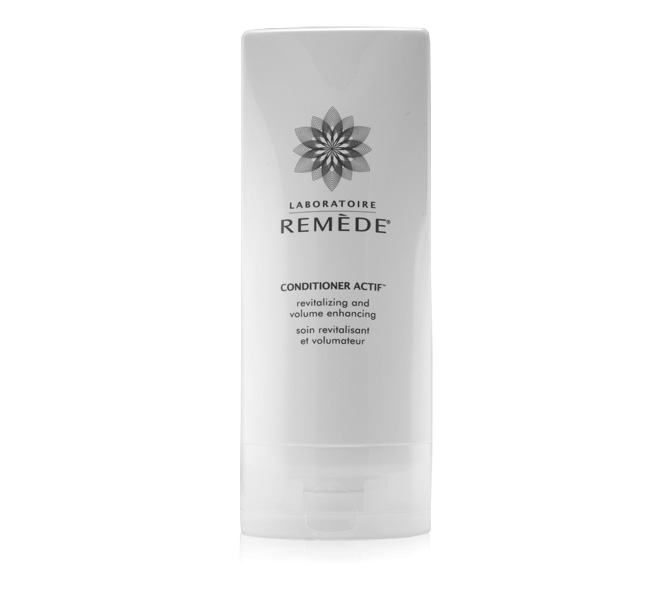 laboratoire remède complete repair conditioner
re-energizing hair and scalp conditioner
Boosts shine and stimulates hair at the shaft
With stimulating sweet lupine complex, panthenol, citrus extracts and mint oil
Use after Shampoo Actif for maximum conditioning and nourishing benefits
complete repair conditioner
This shine-enhancing and volumizing hair clarifier invigorates the scalp, and leaves hair visibly fuller, shinier and softer to the touch. Made with a powerful mix of sweet lupine complex and orange and mint oils, it's ideal for revitalizing maturing hair.
Love this. I've used Kerastase, Shu Uemera, Bumble & Bumble, Fekkai etc. This has given me comparable results for way less money
- by 12/21/2012
I've been using Kerastase shampoo and conditioner for mature hair. I have very fine, color-treated hair which is dry and non-shiny. Remede Actif shampoo and conditioner is great! Used it for the first time and definitely saw a difference in hair thikness and shine! Several people complimented me on my hair! Remede is definitely superior to Kerastase!
- by Judy02/24/2012
This is the first time I have used a conditioner and saw a real difference in my hair. My 10 year old used it also and it made her hair beautiful as well (she has very long hair, made it straight but full).
- by 02/05/2012
I love this product. I have always had frizzy uncontrollable hair. Most products make my hair either limp, greasy or unmanageable. This product is wonderful.
- by juliann02/02/2012
As I age, I have dry, uncontrollable colored hair and fight coarse gray. This is without a doubt the best shampoo and conditioner I have ever used. The first time I used it, people stopped to tell me how pretty my hair was. It makes you feel and look like a million bucks. Well worth the investment!
- by Debbie04/26/2011