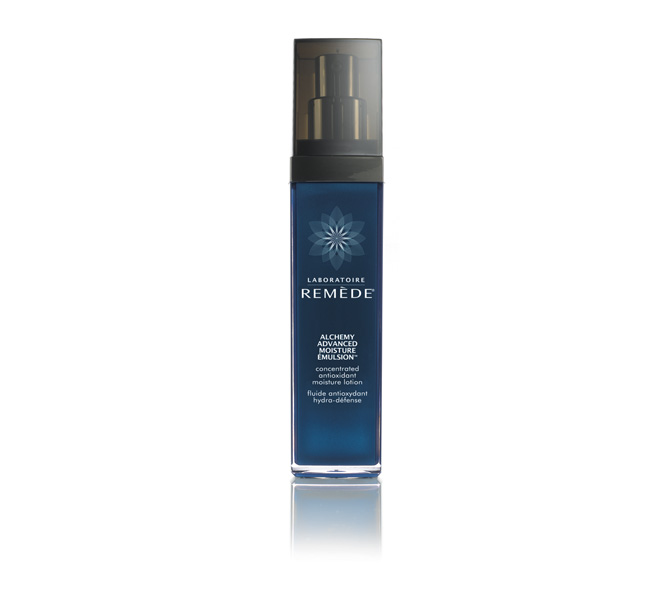 laboratoire remède alchemy advanced moisture émulsion
the cult classic moisturizer, now with green defense technology
about laboratoire remède alchemy advanced moisture émulsion
They say you shouldn't mess with perfection—but when it comes to adding exceptional defense to their already beloved cream, we think Alchemy devotees will make an exception. Now enhanced with Remède's signature Green Defense Technology to protect against the harsh environmental elements and causes of premature aging, this lightweight lotion still contains all of its original power players: a powerful blend of plant extracts that delivers soothing and hydrating benefits, plus a highly effective antioxidant complex with grapeseed and green tea extracts and vitamins A, C and E.
benefits
Features Green Defense Technology, derived from stem cells of the White Nymphaea flower, for environmental protection
Corrects the early signs of aging with concentrated antioxidant action
Enhances firmness and suppleness and reveals a luminous glow
Love it! Leaves my skin smooth without making it too oily.
- by HEATHER12/09/2014
Absolutely LOVE this moisturizer! Brightens and hydrates without feeling greasy. Definitely give it a try.
- by Trista08/04/2014
J'adore this moisture lotion. Leaves my skin feeling fresh and bright. A little goes a long way and well worth the price!
- by 04/07/2014
LOVE all the products in this line but this everyday moisturizer is brilliant. Tried many day time moisturizers and this one feels light, smooth and brightens the skin.
- by Kate02/12/2014
I love remede. I have tried many moisturizers and this is by far one of the best on the market. I only use a small amount and it hydrates my skin well.
- by Jennifer02/10/2014
how to use
Apply generously to face and neck after cleansing and toning. Follow with appropriate eye treatment and Translucent UV Coat.
a few more anti-aging products we love