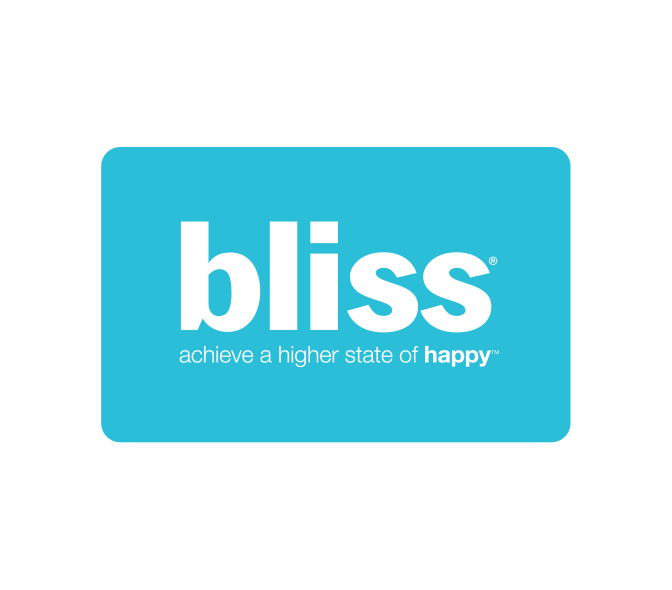 bliss

gift cards
a convenient way to bestow bliss
Use for purchases in US bliss spas or online purchases at blissworld.com
Never expires!
about bliss gift cards
To order our classic plastic gift card, simply select the amount above, click "add to bag" and proceed to checkout or call us at 877-TO-BLISS. Please allow 1-2 business days for us to process your bliss gift card order before it is shipped. We're working as fast as we can to deliver bliss all over, however, if the shipping method you select is U.S. Mail please allow 7 to 10 business days for delivery.
please note:
• Gift cards are valid for redemption in the US only.
• Gift cards can be used for purchases in US bliss spas and online purchases at blissworld.com only.
• Gift cards can not be redeemed for Ideal Image services (Botox, Dysport, Restylane, Juvederm, Voluma, Ultherapy, CoolSculpting).
• Lost or stolen cards are not replaceable.
• Gift cards do not expire.
• Gift cards are non-refundable.
• For your safety, your gift card purchase may be subject to review prior to payment confirmation.
• From time to time, you may be awarded with or receive "rewards", "promotional gift cards", "credits", "vouchers", "groupons" or similar physical or electronic gift cards (collectively, "Promotional Cards"). As a general matter, these Promotional Cards shall have the same terms and conditions as the gift cards described here. However, they may have expiration dates, delayed activation dates or may be subject to additional restrictions or exemptions as provided on the Promotional Cards themselves or any packaging or other written materials that accompany such Promotional Cards or any applicable law.
check your gift card balance
If you need to check the balance remaining on your bliss gift card click here.
need help?