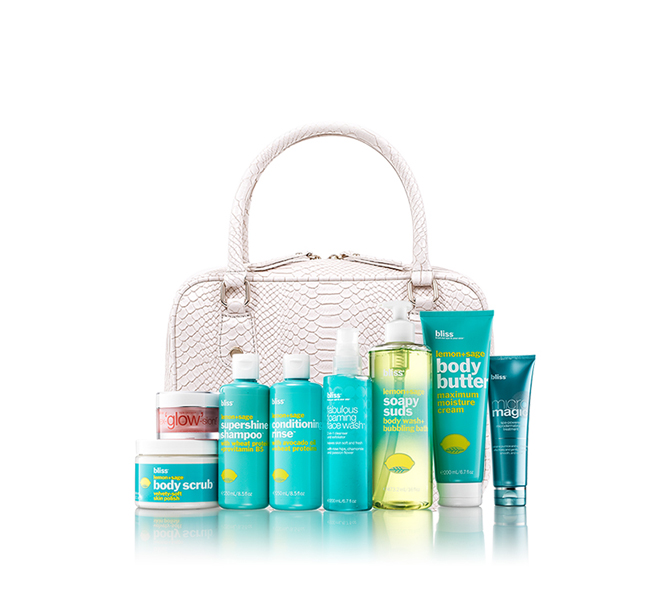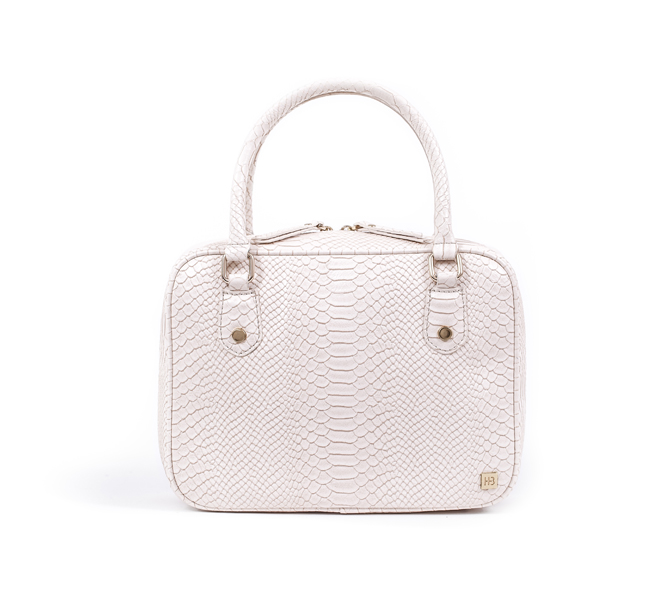 bliss x hudson+bleecker genoa voyager jet set
bliss exclusive! 8 full-sized bliss essentials in a luxe hudson+bleecker genoa voyager bag.
$343.00
$210.00
save 39 %
voyager jet set
Hudson+Bleecker Genoa Voyager Toiletry travel bag:
This travel toiletry bag is the perfect accessory to take you from plane to poolside in seconds. Complete with water-resistant lining, two-way zip closure, 2 removable vinyl cases, and a small detachable pouch to keep valuables safe, this travel toiletry bag serves double duty as a chic seaside tote.
bliss fabulous foaming face wash 6.6 oz.:
A two-in-one oil-free exfoliating wash for all skin types. This fresh, fruity cleanser contains rose hip extract, milk thistle, passion flower and chamomile in a non-stripping formula that helps re-balance even the most scattered of skins.
bliss micromagic microdermabrasion 3 oz:
Formulated with fine volcanic pumice, vitamin E and soothing aloe, our twice-a-week spa-powered microdermabrasion treatment super-boosts your cleansing routine by powerfully yet gently exfoliating dead cells and pore-polluting impurities that face washes may leave behind.
bliss triple oxygen ex-'glow'-sion vitabead-infused moisture cream 1.7 oz:
This oxygen-rich moisture cream is formulated to deliver a mega-dose of radiance and moisture to dry, lackluster skin.
bliss lemon + sage body scrub 6.6 oz.:
Our skin-softening body scrub is made to be massaged on pre-shower, its circular scrubbing grains lift away dead cells, leaving your skin smooth, supple and silky.
bliss lemon + sage soapy suds 16 oz.:
This citrus-scented liquid soap whips up a luxe lather that cleans and conditions for supremely soft skin. Use as a body wash to shake up your shower, or pour a bit into the bath for a more stimulating soak; either way, it'll make routine foaming much more fabulous. Paraben free.
bliss paraben free lemon + sage body butter 6.7 oz.:
Marvelously moisturizing, our famous, fabulous, fresh-citrus scented body butter is so incredibly effective that a single squeeze can make rough and scaly skin 'history'.
bliss lemon + sage supershine shampoo + conditioning rinse 8.5 oz each :
The shampoo with wheat proteins and anti-static actives leaves your locks glossier, while the conditioner quickly tames tangles and adds shine.
toiletry bag details
off-white embossed faux snakeskin with teal, water resistant lining
2 separate snap-out, clear vinyl zipper cases 9.25"W x 7"H x 1.5"D
1 clasped detachable pouch
gold metal zip closure with tassel pull
dimensions: 8"H x 10"L x 4"D; handle drop: 6"