Aug 02, 2016
Author: blissworld blog
'masked' and answered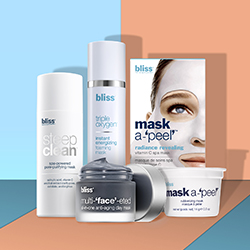 Sure, they're fun and relaxing, but other than that – why bother masking at home? According to our in-house experts, it's because masks deliver a higher-concentration of the active ingredients for even faster results, making them an essential booster to your everyday skincare routine. Plus, with the right tips and techniques from our bliss spa techs, you can get even more out of these weekly treats.
Any tips and tricks for how to make DIY mask application more fun, easy or effective?
"Apply the mask and tune into your favorite show. When it's time for the commercial break; it's usually time to remove the mask."
-Emily Payne, Bliss San Francisco
"This depends on the active ingredients of mask.  For an exfoliating deep cleansing mask (like steep clean pore purifying mask  or  multi-'face'-eted anti-aging clay mask) limit to one time a week.  For hydration masks, such as mask-a-'peel' radiance revealing rubberizing mask or triple oxygen instant energizing foaming mask, two-to-three times a week. When you do deep cleansing mask, follow with hydration mask so you do not strip your skin's NMF (natural moisture factor). It's great combo in between regular facials."
- Ana Martinez, bliss San Francisco
Is it better to use the same mask regularly or rotate different masks?
"As long as your favorite mask gives you the results you love, stick with it! However, sometimes hormonal and seasonal changes lead to specific issues. When pesky breakouts, irritation, or dryness occur incorporate a targeted mask to address any specific issue."
- Ana Martinez, bliss San Francisco
Should skincare masks be used anywhere else on the body?
"Absolutely! Masking isn't just for the face. You can use masks on the back, chest, arms and hands to address dryness, breakouts, or irritation from sun exposure. The same rules apply: cleanse, exfoliate, mask, moisturizer."
- Nandi Wager, bliss Soho
How do I treat my skin after a mask?
"Always follow up with a toner to restore the skin's pH balance, plus your favorite treatment serum and moisturizer. Don't forget your SPF the next day to protect your skin from damaging UVA and UVB rays."
- Nandi Wager, bliss Soho