Jul 26, 2016
Author: blissworld blog
join the 'scrub'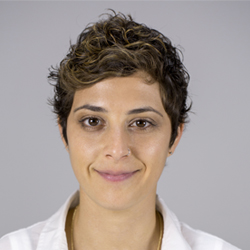 Great any time of year for getting skin smooth, glowing and gorgeous, a good exfoliating scrub down is especially important skincare asset in the summer when we're flaunting a little more.  Just a few benefits: dead skin is removed, fresh skin is revealed; hair removal works better and moisturizers can really soak in. Below is some expert advice from our master tech, Ivy Klein, on how to get the best results at home with just a few smooth moves.
What's the best way to exfoliate your legs? Should you exfoliate before or after you shave? What does this do for the skin?
Ivy: The best way to exfoliate your legs is mechanically using products such as Bliss' Hot Salt Scrub. The glycerin based cleansing scrub sloughs off dead skin allowing younger, newer skin to be revealed. Scrubbing in circles, towards the heart is beneficial, as it will increase circulation. You want to scrub always before shaving to get rid of dead skin cells and get a closer shave.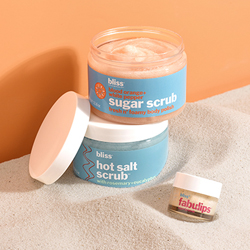 What's the best way to exfoliate your arms? What type of products would you suggest? Do you moisturize afterwards?
Ivy: The arms can be done similarly to the legs, using products such as the Hot Salt Scrub or the sugar-based, less abrasive Blood Orange + White Pepper Scrub. You definitely want to moisturize afterwards to lock in the hydration that will be present on the skin's surface. This improves the texture and tone of the skin, while fighting aging.
Should we be exfoliating body parts like our hands and feet?
Ivy: Hands and feet should absolutely be exfoliated. These are our roughest parts on our bodies and the most exposed to heat, cold, dryness, etc. You can use a scrub just like you would on the legs and arms and immediately moisturize afterwards.
What other body parts should we be exfoliating but isn't as common as our face?
Ivy: It's important to exfoliate the whole body. Removing superficial skin cells helps any moisturizer penetrate the skin deeper and prevents breakouts/buildup of excess dry/old skin. It leaves the skin smoother and more even toned. One area most people do not exfoliate is the lip area. Lip exfoliation is also totally acceptable and encouraged. Bliss' sugar lip scrub destroys/removes dead skin cells and impurities from the lips, leaving lips soft and radiant. Moisturizing immediately after exfoliating is necessary. You can use Bliss' fabulous softening lip balm, which nourishes with shea butter and jojoba oil, locking in hydration and leaving lips soft.