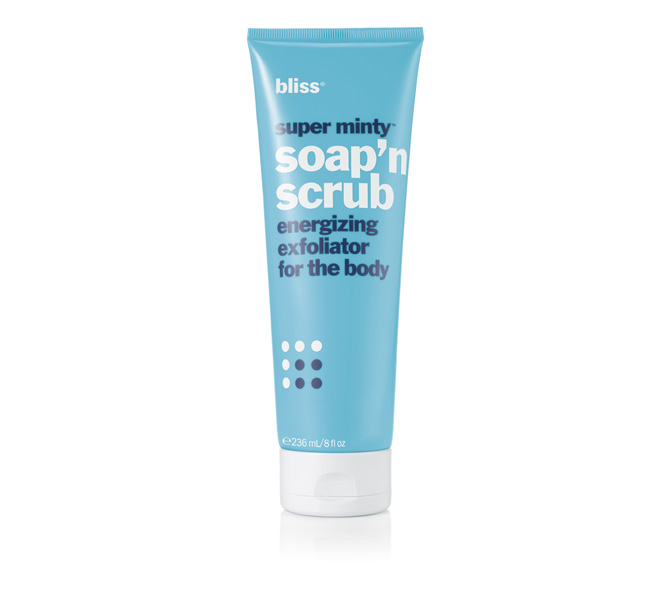 bliss super minty soap'n scrub
peppermint cooling and exfoliating soap scrub paste 8 oz
exfoliating and energizing soap scrub
Our pathologically popular minty soap comes 'melted' in this jojoba bead packed peppermint cooling and exfoliating soap scrub paste.
Caution: early washes suggest it might be habit foaming. Great as a post-workout wash! So cool, it literally stops you from sweating. The ideal shower scrub for anyone who likes to feel clean to the extreme.
My skin is 70 years old and this product make it feel so good, clean and revitalized
- by Pamela 02/08/2017
Love this. Feels great in the summer
- by RENEE12/04/2014
So refreshing, it smells wonderful and makes my skin so soft!
- by Heather10/18/2014
I love this product! The minty fresh smell is not overpowering and it really exfoliates your body.
- by Jennifer03/09/2014
Excellent scrub. Great for after workouts. MINTY.
- by Eddie02/09/2014
how to use
Bliss Super Minty Soap'n Scrub is loaded with blue jojoba beads (that work like little loofahs) and a bracing blend of pure peppermint oil and menthol (for a truly formidable level of 'frisk'). Apply generously to damp skin. Soap and scrub until you can't stand it. Rinse well.
Check out these other 'scent'-sational saviours...