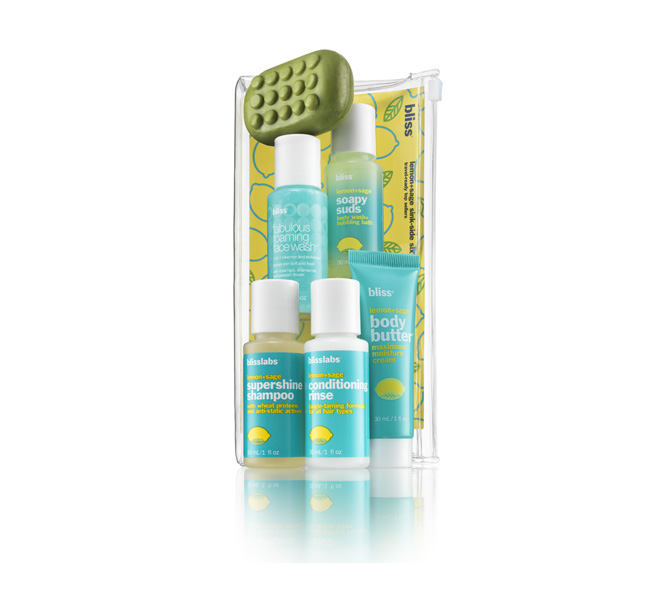 bliss sinkside six pack travel set
6 travel-sized bliss favorites
Fabulous foaming two-in-one oil-free exfoliating face wash for all skin types
Suds & butter up with our our signature, energizing lemon & sage body care
Get glossy, gorgeous, manageable, fresh scented hair
bliss bundle for bath, body and face
To make it even easier for trying or traveling, we've mini-sized some of our most mega bath, body and skincare formulas (the same ones scored by lucky W Hotel guests) and bundled them into a handy waterproof tote. Includes an ounce each of Bliss Fabulous Foaming Face Wash, Bliss Lemon+Sage Soapy Suds, Bliss Lemon+Sage Body Butter, Bliss Lemon+Sage Supershine Shampoo, Bliss Lemon+Sage Conditioning Rinse, plus a 'small but still fab' 1.8 oz Bliss Lemon+Sage Body Bar.
Travel sizes are so perfect for the gym, over-nights, guest bathroom...and the Bliss Sinkside brings an extra fresh lemony appeal. Comes complete with all your bathing necessities. Invigorating scent.
- by Cori08/08/2014
great value, the sinkside six gives you a little sample of some of the best products available from Bliss
- by Travell06/08/2014
I found this on a cruise 3 years ago, and have taken refills with me on every trip since then.
- by Jill02/26/2014
how to use
bliss lemon + sage body butter
Slather on from shoulders to shins (or anywhere else that's particularly parched).
bliss lemon + sage supershine shampoo
Apply generously to damp hair, working the shampoo into a rich lather for 1-3 minutes. Rinse thoroughly.
bliss lemon + sage conditioning rinse
After shampooing, gently squeeze excess water from hair before massaging quick conditioner from scalp ends. Leave on between 1-4 minutes, depending on your tendency to tangle.
Rinse well.