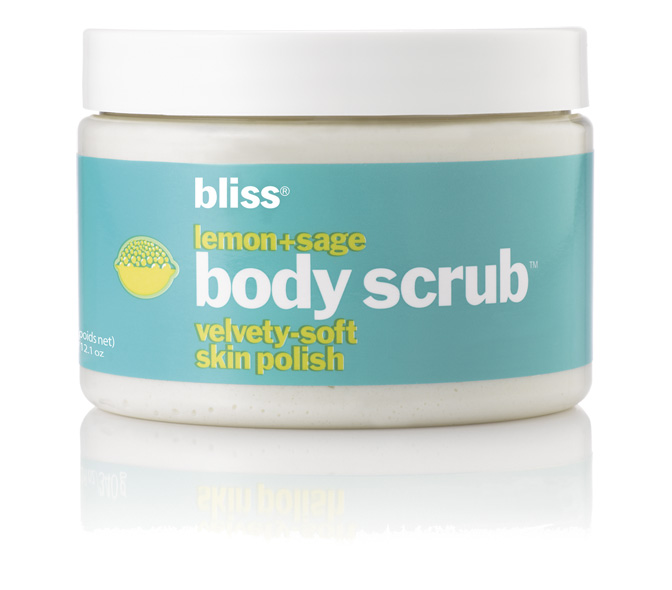 bliss lemon + sage body scrub
velvety-soft skin polish 12 oz
Circular scrubbing grains lift away dead skin cells
Softens skin and invigorates circulation
Fresh lemon + sage scent
our skin softening body scrub
It has the same fresh lemon+sage scent as our bestselling butter. Made to be massaged on pre-shower, its circular scrubbing grains lift away dead cells, leaving your skin smooth, supple and silky.
LOVE IT! Had this used on me when I was at the Bliss Spa in San Fran, and it is simply amazing. I use it at home, and it helps to sooth any rough skin. Love the scent.
- by Elsa 11/03/2014
I love this! It works great before and after shaving and it smells amazing! Use this everyday!
- by Tiffany 07/07/2014
Great product!
- by Virginia 03/09/2014
how to use
Before hopping into the shower, scrub your skin vigorously from shoulders to toes with a heaping handful of Bliss Lemon+Sage Body Scrub (5 minutes minimum). Rinse thoroughly and wash well with our lemon + sage soapy suds
bliss tech tip Apply your body moisturizer immediately 'post shower', while your skin is still damp, to ensure that its humectants trap the highest possible level of hydration. Try lliss lemon+sage body butter for supreme skin softening and smoothing.
love lemon & sage? Here's more in the family