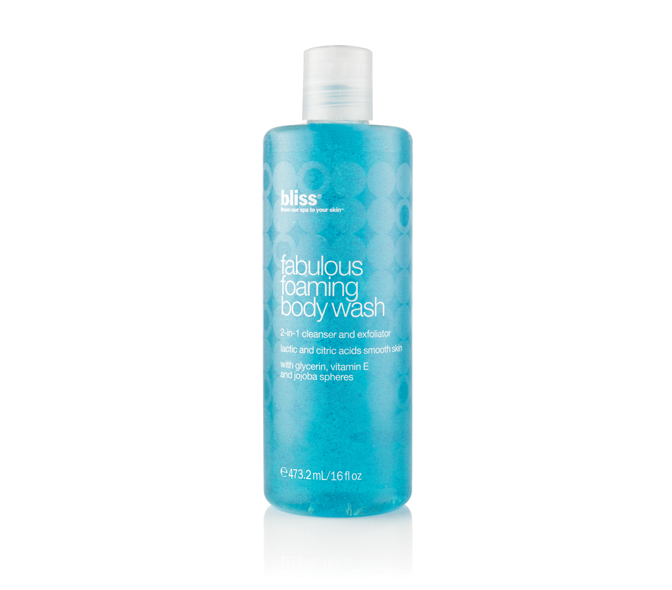 bliss fabulous foaming body wash
2-in-1 exfoliating body wash 16 oz
Skin-polishing buffing beads leave skin soft and smooth
Fresh, spa-inspired scent
Paraben free
fabulous foaming body wash
A 'below the neck' version of our famed face wash, this 2-in-1 exfoliating formula lets you suds up and scrub down in one simple step. With skin-polishing buffing beads that leave skin soft and smooth, and a fresh, spa-inspired scent that lathering lads and ladies will both love. Paraben free.
I don't get the previous reviews! This is not a "squeeze" bottle, it has a pump and I have never had any difficulty getting it out of the bottle. I have a small sample size that I got at the W hotel years ago and I keep that one filled for my morning shower. At night, I pump once into my hand to wash my face. Easy, peasy! Just like any pump type, at the very end, you may have to turn the bottle upside down to get the last bit out, but that is not a problem for me. I love the product that I discovered while staying at the W in Atlanta and have been ordering it regularly since then.
- by Susan01/21/2017
It gets 3 stars because it is hard to squeeze the product out of the bottle, have to take off the lid and pour onto loofah. I like it because I have a skin condition that requires lactic acid to clear it up and the scent smells WONDERFUL! But work on making the bottle easier to squeeze, please! The bottle is literally hard as a rock.
- by Sarah08/01/2016
LOVE the actual body wash but HATE the bottle. I have to push it up against a ledge in my shower to get the soap out. It's so hard to squeeze.
- by Toshia11/29/2016
This seems to have a nice product in it, unfortunately, it is virtually impossible to squeeze this bottle to it out! The actual bottle is ROCK HARD. You need a pump or something! I have to give 1 star because unless I transfer the product to another bottle, I cannot squeeze of shake the product out. So frustrating! Waste of $20.00.
- by Elizabeth 06/02/2016